Isodate & Matched By Sukh Kaur Presents: Sikh/Hindu Video Speed Dating
May 19, 2022 @ 8:00 pm

-

9:30 pm

£10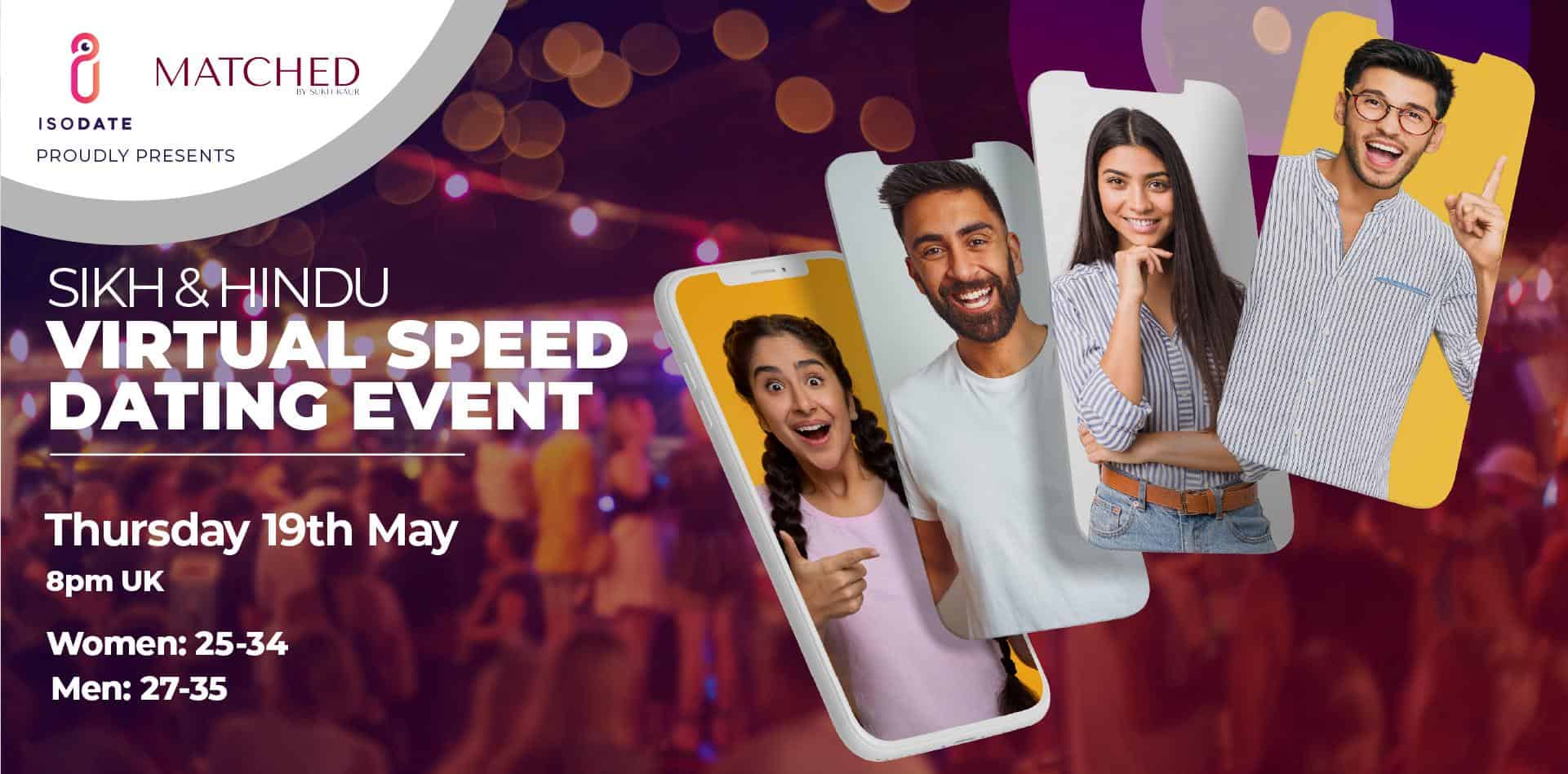 An exclusive evening of VIP dating for Sikh/Hindu communities. Meet a number of fantastic singles, all from the comfort of your home!
UK: it's time to date better in 2022!
Isodate is thrilled to be partnering with Matched by Sukh Kaur, a leader in South Asian dating, to bring you this new event for the 25-35 Sikh, Hindu Punjabi/Gujarati communities!
No more auntie-set ups, awkward single meetups, or swiping endlessly – instead, enjoy a number of fun 3-4 minute chats with eligible singles … and all from the comfort of your own home!
That's right: dating as it should, face to face, and with people, not profiles.
Over the course of the evening, singles will get to go on a number of great virtual speed dates with eligible matches. There's no awkward swiping, or long-winded texting – just fun one-on-one chats in a relaxed setting! Better still: it's confidential – so if you're not interested in the person, you simply pass and move on (with no hard feelings. Hey: we can't be right for everyone!)
Taking place on Thursday 19th May at 8pm UK, individuals will meet fellow singles from the Sikh, Hindu Punjabi/Gujarati communities between the ages of 27-35
With our unique platform users will enjoy a number of exciting 'virtual' speed dates, with the option to like/pass after each. It's about people, not profiles, so come with open attitudes and get ready for a great experience.
Tickets are limited, and will include a special offer for all those in attendance. Plus, early purchasers can take advantage of our early-bird prices: £10 each, or two for £15 (limited numbers)
Oh – and best part: you can use any device! iPhones, laptops, PCs, tablets, iShoes (well, not this one, but you get the idea) – just pick your device, a comfortable spot, and off you go …no awkward/unnecessary app downloads!
Who's it for:
Single Sikh/Hindu's males (27-35); females (25-34)
When:
Thursday 19th May, 2022
Time:
8pm UK
What do I need:
-An internet connection
-A laptop with a camera
– A smile and an eagerness to try something unique and fun
(Oh, and we also recommend Google Chrome browser on laptop/pc for best experiences)
How do I participate:
1) Purchase your ticket here. Instructions will be available straight away for you to create an account on our platform. Please check under 'More Information'. We will also send you a link a few days before the event also.
2) Click on the link and create your profile before the event begins.
3) Join the event at least 15 minutes before the specified time of the event you want to join.
4) You will be meet a variety of people for 3-4 minute video chats. After this you'll be prompted to like/pass on that person. Once you've made your decision, the video feed will refresh with your next date: this will continue until you've met everyone.
6) At the end of all the dates, you will find your matches under the 'Connections' tab on your profile.
How much is it?
£10 early bird – £15 after
Two for £15 (just enter the types of tickets on checkout – male/female etc)
Please give us a like on Facebook (Facebook.com/isodate) and on IG (instagram.com/isodate.co) to stay tuned for more.
If you'd like to know any more, feel free to connect with Sukh herself on IG (https://instagram.com/matcheduk)
Happy Isodating!