Isodate & SAMANA Present: A VIP Dating Event for South Asians in US/Canada
January 30
@
2:00 pm
–
4:00 pm
EST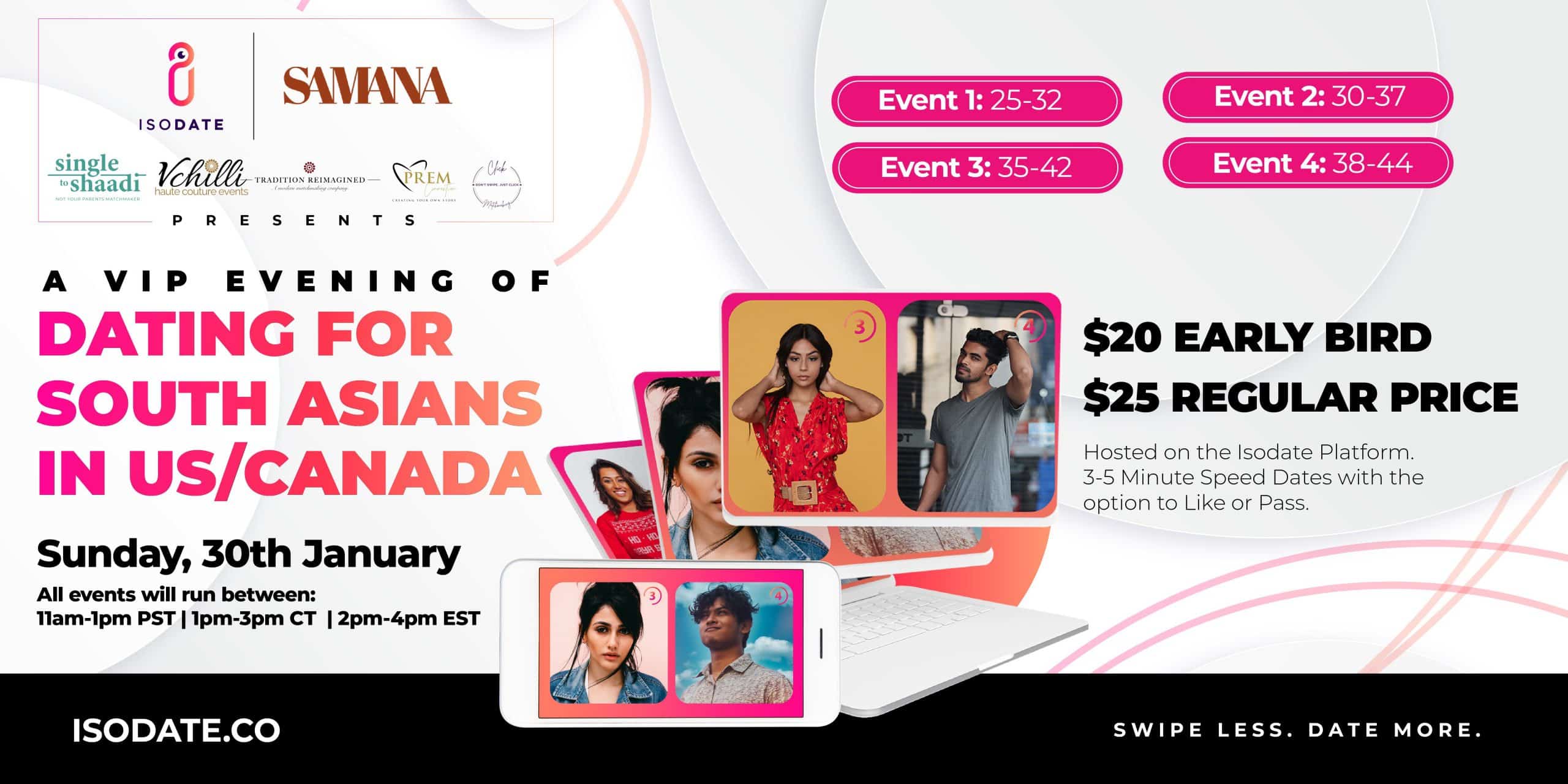 After our December event success, SAMANA is back for a fantastic evening of video speed dating for South Asians in US & Canada.
The biggest dating event for South Asians in North America is back…and bigger than ever!
Friends: it's time to stop swiping – and rehumanize dating – in 2022.
Isodate is thrilled to be partnering once again with North America's leading South Asian dating alliance, SAMANA, to bring you this amazing evening of dating. Working with not one, but FIVE of North America's best Indian matchmakers/relationship coaches, get ready to meet some of the best South-Asian singles!
That's right – no more auntie-set ups, awkward single meetups, or swiping endlessly – this is dating as it should be: face to face (from the comfort of your own home!), with people, not profiles!
How it works:
Over the course of the evening, singles will get to go on a number of 3-4 minute virtual speed dates with fantastic, South Asian singles! There's no awkward swiping, or long-winded texting – just fun one-on-one chats in a relaxed setting!
Oh – and best part: you can use any device! iPhones, laptops, PCs, tablets, iShoes (well, not this one, but you get the idea) – just pick your device, a comfortable spot, and off you go …no awkward/unnecessary app downloads!
When:
Sunday 30th January
Time and Events:
**All Events take place between: 11am-1pm PT / 1-3pm CT/ 2-4pm ET
Event 1: Men 25-32
Event 2: Men and Women 30-37
Event 3: Men and Women 35-42
Event 4: Men and Women 38-44
Who's it for:
Single South Asians in the age group listed above
What do I need:
-An internet connection
-A laptop with a camera
– A smile and an eagerness to try something unique and fun
(Oh, and we also recommend Google Chrome browser on laptop/pc for best experiences)
How do I participate:
1) Purchase your ticket here. Instructions will be available straight away for you to create an account on our platform. Please check under 'More Information'. We will also send you a link a few days before the event also.
2) Click on the link and create your profile before the event begins.
3) Join the event at least 15 minutes before the specified time of the event you want to join.
4) You will be meet a variety of people for 3-4 minute video chats. After this you'll be prompted to like/pass on that person. Once you've made your decision, the video feed will refresh with your next date: this will continue until you've met everyone.
6) At the end of all the dates, you will find your matches under the 'Connections' tab on your profile.
How much is it?
Early Bird $20
Regular Price $25
About our Partners:
* SAMANA
​(South Asian Matchmakers Alliance of North America is a member run organization that seeks to add integrity and partnership to the matchmaking experience. We all have the same goal of helping people find love, just different approaches. ​All of our member companies are owned and operated in the United States and/or Canada. We cater to South Asian singles and families who are located in North America and are seeking potential matches in these countries.)
Our alliance members (and partners for this event) are: Single to Shaadi, Matchmaking by VChilli, Tradition Reimagined, Prem Connection and Click Matchmaking
Please give us a like on Facebook and on IG (@isodate.co) to stay tuned for more.
Happy Isodating!
Related Events