Isodate's NYC GBTQ+ Virtual Speed Dating Event: Swipe Less, Date More
October 18, 2021 @ 8:00 pm

-

9:30 pm

$10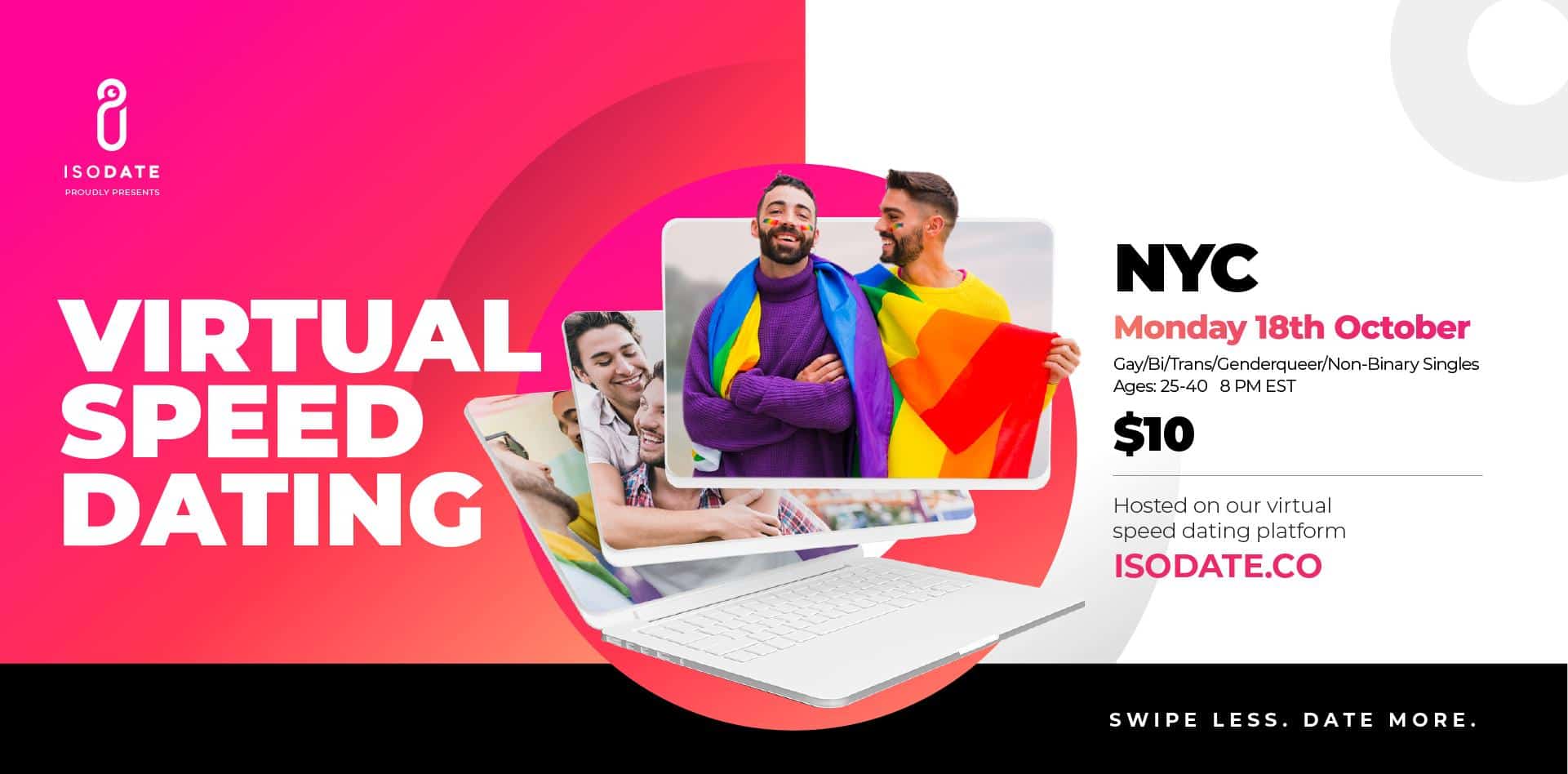 Close those apps and get back to dating people, not profiles! Video speed date with eligible singles in your area from the comfort of home!
About this Event
Bored of conventional dating? Looking for something with a bit more…substance? Or would just like to have an actual conversation and get to know someone?
Well then: come give our Isodate GBTQ+ event a try! Better still: we're running this as a 'Pay what you can'. Sure we have costs, but we know it's been a hard time for many, so we'll leave it to you to pay what you can manage!
When:
On Monday 18th October 2021, we invite you to go on numerous virtual speed dates with elite single individuals across your city. Put the apps away and get in front of real people, for real conversation, all from the comfort of your own home.
How does it work?
Check out the Isodate 101 (30 secs): https://youtu.be/VOVJq-Sntuc
Who's it for:
Elite single GBTQ+ individuals from the NYC (and surrounding) area, in the applicable age groups (listed below), who want to rehumanize their dating experience.
When:
Monday 18th October 2021
Times:
Gay, Bisexual, Transsexual, Queer + individuals : 8 pm EST
What do I need:
– Your device of choice (make sure to update your web browsers!)
– A good WIFI/ Mobile Data (we recommend WIFI, for better connections)
– A smile and an open attitude!
How do I participate:
1) Purchase your ticket here. Instructions will be sent to you after purchase, and 4 hours before the event (so don't panic!)
2) Follow the link to eventcanopy.uk and create your account
3) Join the event at least 10 mins before the start time.
4) Start dating! Each date lasts just 3-4 mins, so keep it light. Science tells us it takes 90 seconds or less to sense compatibility, so just get to know each other.
5) Select 'Like' or 'Pass' after your date (anonymously of course)
6) The event will end once you've met all available participants. Head over to the 'Connections' tab on your profile to meet your matches, and continue chatting 😊
How much is it?
$10 – the best price online!
Why should I join?
– No more swiping! No time wasting! No catfishing! Meet real people and have real conversation, as dating should be
– Connect with people, not profiles
– Stay safe! Get to know someone in person, from the comfort of your own home!
Let's be social…
We're friendly people, so fire any questions you might have our way – luke@isodate.co.
Happy Isodating!