Isodate & Julie Ferman Present: A VIP Evening of L.A Virtual Speed Dating
November 30, 2021 @ 7:00 pm

-

8:30 pm

$20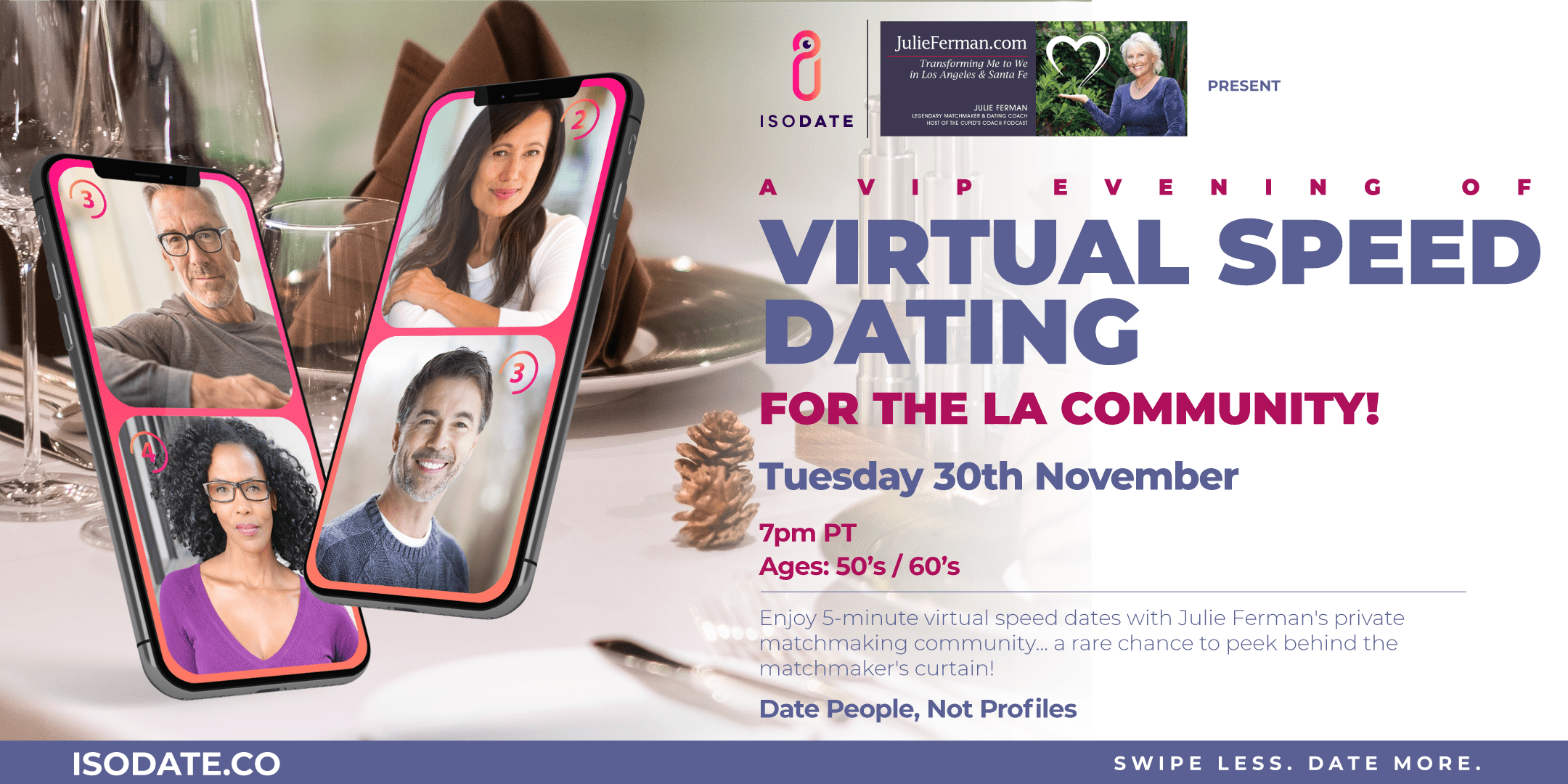 Enjoy 5 minute speed dates with LA singles exclusively from Julie Ferman's matchmaking community, all from the comfort of your own home.
Los Angeles and surrounding: get ready to date better in #2021 !
Isodate is thrilled to be partnering with Julie Ferman, one of America's most experienced matchmakers and a leading figure in L.A for the last 20 years!
Now, with Isodate, Julie is bringing an exclusive event to the 50-60s LA community, allowing you to meet interesting singles for one-to-tone video chats; and the best bit? It's all from the comfort of your own home!
Wondering how it works? Well check the ISODATE 101 video on YouTube
No more long-written profiles, awkward apps, or swiping endlessly – instead, enjoy a number of exciting, five-minute video chats with REAL people (from Julie's exclusive database) across the LA region.
That's right: dating as it should, face to face, and with people, not profiles.
Details:
Over the course of the evening, singles will get to go on a number of great virtual speed dates with eligible matches across LA. There's no awkward swiping, or long-winded texting – just fun one-on-one chats in a relaxed setting!
Taking place on Tuesday 30th November at 7pm PST, individuals will get to enjoy a number of exciting 'virtual' speed dates, with the option to like/pass (anonymously) after each. It's about people, not profiles, so come with open attitudes and get ready for a great experience.
Tickets are limited, and will include a special offer for all those in attendance – so don't delay in getting yours!
Oh, and the best part: you can use any device! iPhones, laptops, PCs, tablets, iShoes (well, not this one, but you get the idea) – just pick your device, a comfortable spot, and off you go …no awkward/unnecessary app downloads!
Who's it for:
L.A singles in their 50s-60s
When:
Tuesday 30th November, 2021
Time:
7pm PST
What do I need:
-An internet connection
-A laptop with a camera
– A smile and eagerness to meet that special someone to enjoy your best years with!
(Oh, and we also recommend Google Chrome browser on laptop/pc for best experiences)
How do I participate:
1) Purchase your ticket here. Instructions will be available straight away for you to create an account on our platform. Please check under 'More Information'. We will also send you a link a few days before the event also.
2) Click on the link and create your profile before the event begins.
3) Join the event at least 15 minutes before the specified time of the event you want to join.
4) You will be meet a variety of people for 5-minute video chats. After this you'll be prompted to like/pass on that person. Once you've made your decision, the video feed will refresh with your next date: this will continue until you've met everyone.
6) At the end of all the dates, you will find your matches under the 'Connections' tab on your profile.
How much is it?
$20 USD
Please give us a like on Facebook (Facebook.com/isodate) and on IG (instagram.com/isodate.co) to stay tuned for more.
Happy Isodating!