Isodate & P+1 Present: World Aid's Day Virtual Speed Dating Fundraiser
December 1, 2021 @ 8:00 pm

-

9:30 pm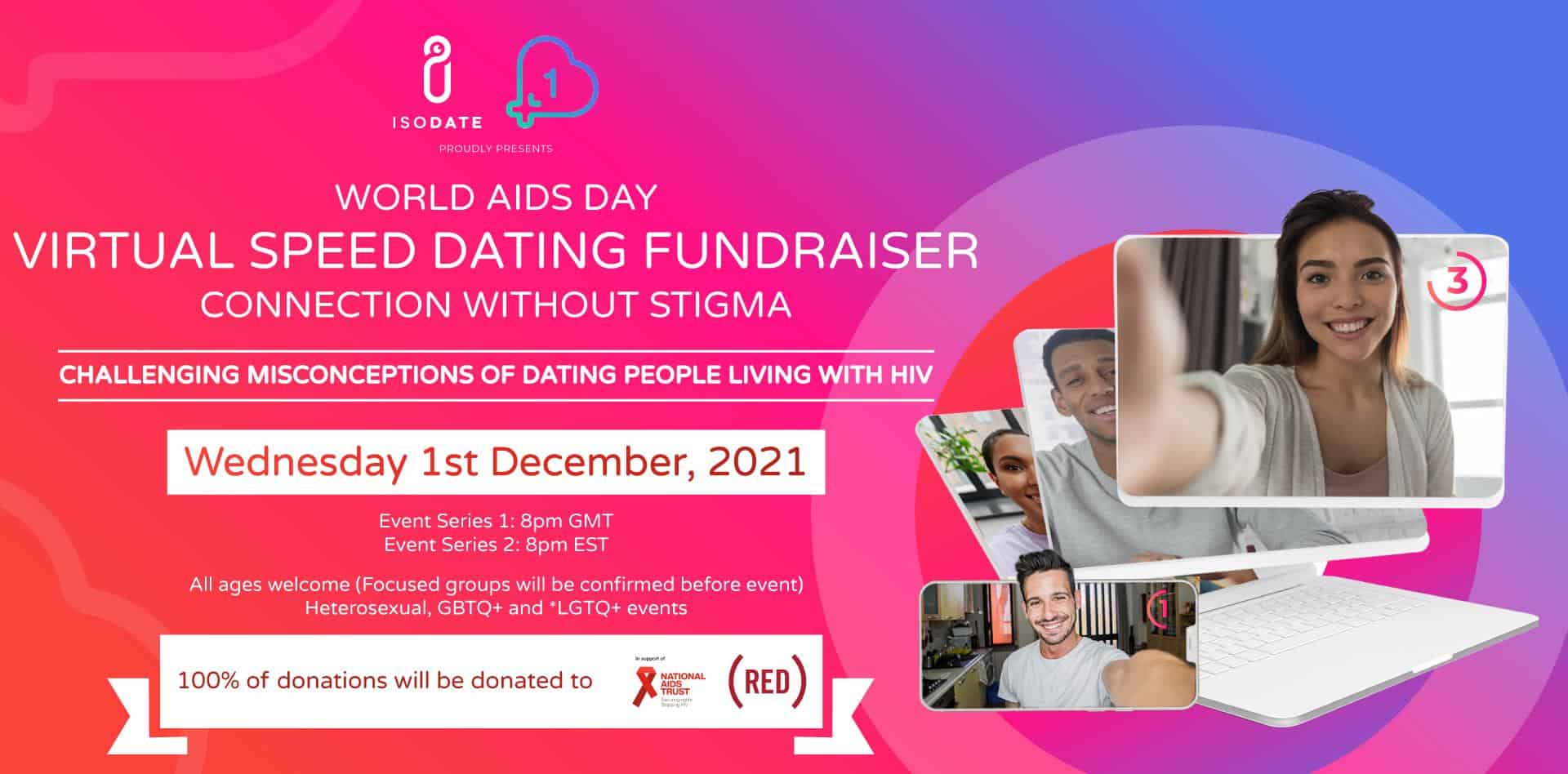 This World Aid's Day, help Isodate and Positive Plus One challenge misconceptions, and end the stigma, around dating with HIV
In 2000, a study found zero infections (from a HIV positive individual to their partner) when their 'viral load' was less than 1500 copies. Zero. Consequent studies have proven this, leading to the adoption of the slogan U=U ('Undetectable equals Untransmittable). This means that risk of HIV infection is 0% (yes, ZERO PERCENT) when the positive-individual keeps their viral load below 1500.
And yet in 2021, stigma and misconceptions around HIV continue to exist.
This World Aid's Day, Isodate and Positive Plus One want to change this; to challenge these misconceptions and provide a safe space (and fun experience) for people to date with, or without, HIV.
100% of proceeds/donations for the events will go to support the work of both the National Aids Trust (NAT) and (RED), and together we can begin to remove the stigma associated with HIV.
So – how does it work?
Using Isodate's unique platform, individuals will get to go on a number of amazing virtual speed dates with singles from their community. Each date is one-to-one: there's no swiping, instead just great, humanised dating for 3-4 minutes at a time!
After the date users simply select like or pass, before moving onto their next Isodate. This continues until all participants have met, at which time users will head over to their connections tab to see/talk to their matches.
It's dating without the downsides: no swiping, no pro-longed messaging, and no catfishing – just people over profiles!
Check out the Isodate 101 to see how it works!
Why now?
Because we want to make a difference.
Positive Plus One has always been about providing a safe, secure environment for support, friendship and connection amongst the HIV community, and through a collaboration with Isodate allows users to connect effortlessly, no matter where they may be.
After all, Distance means so little when someone means so much.
What do I need to take part?
* A good WiFi/Mobile Data connection
* Your device of choice: phone, computer, laptop, tablet (although we recommend a laptop/computer and Google Chrome)
* A smile (it's a great conversation starter)
We also recommend a drink of choice, and somewhere comfy to sit…but we'll leave that up to you!
Who's it for:
Single individuals across either North America; UK (Europe welcome too!). Events are as follows:
Times:
8pm GMT (UK & Europe event) – 3 Events (Heterosexual, GBTQ+, LBTQ+)
8pm EST (Eastern US time) – 3 Events (Heterosexual, GBTQ+, LBTQ+)
When:
Wednesday 1st December, 2021
Sexualities:
1. Heterosexual
2. GBTQ+
3. LGBTQ+
Ages:
All welcomed! (We will split participants into relevant groups – considering location, age, etc – on the day)
Cost:
Donation based (min $1; suggested $10) – all proceeds will be donated to NAT and (RED) so please give generously!
How do I participate:
1) Purchase your ticket here. Instructions will be available straight away for you to create an account on our platform. Please check under 'More Information'.
On the day of the event we will send details to all users for their specific groups and code needed to enter their event.
2) Make sure to join the event at least 15 minutes before the specified time of the event start time to avoid any issues/missed meetings.
4) Each user will get to meet a number of great singles for 3-4 minute video chats.
5) The video feed will end automatically after 3-4mins. Users will be prompted to either 'like' or 'pass' on that individual.
6) Once decided, the video feed will refresh with a new person. This will continue until you have met all of your dates.
6) At the end of all the dates, you will find your matches under the 'Connections' tab on your profile.
Show us some love!
Positive Plus One: Facebook ; Instagram
Happy Isodating!