5 Awesome Covid-Friendly Date Ideas in Toronto

Creative dates are still possible during Covid. Here's how...
Toronto's vibrant nightlife has taken a bit of a hit, but the city is still abundant with good opportunity. Here's just five we think they'll love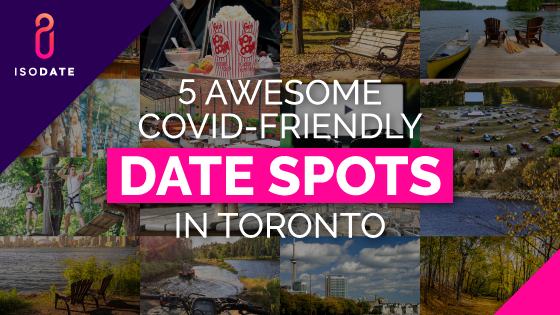 If this pandemic has taught me anything it's this: never have I missed Olivia-Newton John and her dating advice so much.
With so much focus around Covid-19, it's becoming increasingly difficult to plan the perfect (safe) first meet for your virtual speed dating match. You're struggling to find the balance between responsible and fun; something that will allow you to get to know the person better. After all, they seemed perfect in that Isodate virtual speed date, but spending a fun evening together will help things flourish 
Thankfully, there's some great options popping up that are not only safe and socially distanced, but also offer up something a little more exciting than 'let's grab drinks'; and to help you out, we decided to compile our favourite top five.
So…what are you waiting for?
Sunset Picnic on Toronto Island
If you've lived in Toronto you will have definitely visited the Toronto Islands at some point. Perhaps it was for a pleasant bike ride and quaint lunch at Island Cafe, or if you were a bit more adventurous, a 'clothing optional' beach day out.
Thing is, both might be a bit too strenuous for a first date (albeit in different ways)…but that doesn't mean you should disregard the Island for a great date location. After all, you both spoke about your mutual love of 'beach walks and sunset views' on that virtual speed date…so now you've got to follow it through.
Hanlan's Point is, in my opinion, one of the most breathtaking sunset spots in North America. Clear views, beautiful water, and TO's very own CN Tower casting a beautiful shadow across your panoramic shots. What more could you ask for? Grab a nice blanket, make some sandwiches and scones, and grab a nice bottle of something – it'll certainly get those sparks flying.
Bike ride along the Waterfront

I've been biking across Toronto for over four years now, and in that time there have been only two comments that really grind my gears. First, the "Toronto is too dangerous to cycle around"; and second, "There's not enough bike paths to really enjoy it". In 2010, I may have agreed – after all, the city's very own Mayor Rob Ford (RIP), was quoted as saying "I compare bike lanes to swimming with the sharks: sooner or later you're going to get bitten". 
However, thankfully things have changed drastically since 2010. The city has committed much investment to its bike lanes, thanks in part to the 2019 Cycling Network Plan Update, and there's nothing more enjoyable than a laid back bike ride. What's more, the Martin Goodman Trail scales 22 km along Toronto's beautiful waterfront, and you'd be hard pushed to find a date with such scenic variety. Well, other than the various backdrops people have for their virtual speed dates (I once spoke to a girl sat in front of a mounted Moose head.!)
So: bring some packed snacks and a little tipple (along with a lot of water, of course), and pick up some serious brownie points in the process.
Drive-In and date
Ah, the cinema date – as complex as it is old. Is there much worse for a first date than spending hours in forced silence, with nothing but a few stray arm rubs and your body weight in popcorn? No, I don't think so…and yet for many, the cinema first date night has been a staple in their dating lives. 
Truthfully, Covid-19 has done few things that leave a positive light, but what I will say is that it's got us all to reevaluate parts of our lives (and, in this case, our habits). Part of this rethink has come round cinema attendance and especially towards the safety and/or close-quarter seating options.

Enter, drive-thrus!

It's a nod to the past, but with a modern kick. Screens are much bigger, sound far crisper, and snacks significantly cheaper (than the cinema at least). A number of options exist in and around the city, including in mall car parks (such as Sherway Gardens) as well as the DriveInTO series from Ontario Place, which will be showcasing select indie and local films from a diverse range of directors and filmmakers. Oh, and the latter is free, too. 
Patio hopping
OK already! I know I knocked the 'let's grab drinks' ethos earlier, but this is different. This is 'let's grab drinks', patio-styley. We're scaling up your virtual speed dating drink choices, and giving you deck chairs to go with them.
Let's face it – it's unlikely the city will give up so much of their already lacking downtown lanes in the future to support these 'pop-up patios', so why not make the best of it while you can? However, word to the wise: the more downtown you go, the more you should look at making reservations – things can get quite busy, and with limited capacity, we'd hate for you to miss out.
As a fun reco, check out three of our favourites: Gerrard East Market, Rendezviews, and a little known option in the car park next to Stones Place 
You better fight, for your right…to hike?
As Toronto continues to expand it's getting harder and harder to maintain untouched areas of beauty. At this time however, Toronto is still surrounded by some truly beautiful walks, hikes, and even moderate climbs, yet few are utilised properly (or even known about).
We've been through a few, and our notable favourites include David A. Balfour Park (75 Rosehill Ave), Scarborough Bluffs, or even just High Park (which even has a small animal sanctuary/zoo for you to check out). 
Get fit, keep safe, and share some laughs – I can think of far worse things to do.