5 reasons why video speed dating deserves your full attention

This isn't a fad, and it isn't going anywhere. Here's why...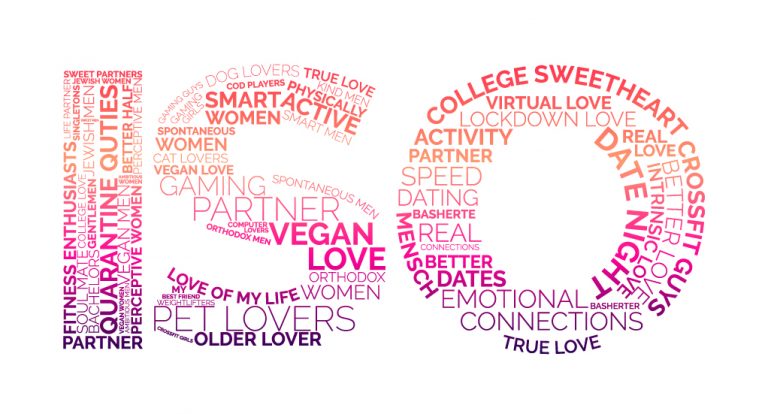 2020 – you have really been a delight, haven't you? Worldwide pandemics, social distancing, economic uncertainty: we've experienced it all. However, allow us to try and put it into perspective, to endow some wise words given to Isodate Co-Founder Luke from his father at just 9 years of age:
"Luke – life's tough; it's unfair; and sometimes, it's just down right upsetting. But remember …it's yours, and it's beautiful. You control how this story plays out, how you are going to react, and how much happiness you will allow yourself. If you can find humour, or growth, in those difficult moments – well, yours is a life that will be worth more than you can ever know"
Beautiful.
Unfortunately, these weren't actually his dad's words: we've added some creative licence here. Instead, he said "Luke – life's hard, then you die. Make the most of it" – ah, English subtlety.
This years' distancing and isolation has emphasised just how much humanity needs social interaction. We long for it, both emotionally and physically, and perhaps needed a little wake up call to just how much this is true. When this comes to relationships, we've made amazing developments; and yet, when it comes to pursuing such interests, our approaches continue to be…archaic.
We swipe left and right on autopilot, send the same 'copy and paste' response to each 'profile', and then are upset when we experience the same results. Talk about insanity (ala Einstein's famous quote).
Even prior to the COVID-19 outbreak, the World of dating was changing. Industry leaders are focusing their attention to finding the next 'dating mechanic' and giving you better options to find love.
Imagine if there was a way to get to know someone properly in just three minutes? If you didn't have to waste hours writing messages, or could eliminate bad first dates for good? Well, there is': Virtual Speed Dating.
We understand that change is difficult, so we decided to put together this fun list of reasons why you need to bin the apps and give Isodate's virtual speed dating a go.
Your time is valuable
Between work, personal and social, time can often be a hot commodity. Few of us manage it correctly, and even those that do find themselves stretched. Finding love should be something we prioritise, but this shouldn't consume your life. An Isodate Virtual Speed Dating Event allows you to meet up to 15 potential partners in under an hour, allowing you to do away with the mindless small talk and get straight to the meaningful conversation, all from the comfort of your own home.
So…do we actually get on?
Dating is expensive, and when your wallet is already feeling thin/shallow/worn out, there is nothing worse than the societal pressure to dazzle your first date with 'the platinum package' (dinner, drinks, an Uber home, all that stuff). Unfortunately, even if you do fulfil these 'sacred' first date rituals, they unfortunately don't always guarantee a second date. In a world where dating is as competitive and prolific as an episode of the Bachelor and 'ghosting' is another pandemic within itself, we need to be mindful of how much we are spending on an outing so we're not all out of pocket if it's not reciprocated. Isodating allows you to ease the pressure of the first date, meaning that when you do finally meet in person, you will already have a better sense of what impresses your date, without breaking the bank.
Let's be real
Let's be honest. There is no in between when it comes to the ol' dating profile. You're either presented with a portfolio of someone's most flattering European vacation snaps (anyone can look a 10 sipping a sunset Aperol on the Amalfi Coast, that's just a given) or someone who took a good photo of themselves four years ago and are still using it today on every social media platform, LinkedIn and all. Instead of performing an investigative examination on the legitimacy of these people, virtual speed dating offers a level playing field to meet your match. A space where no filters or photoshop can affect your expectations of each other.
There is no choice but to show your most authentic self, and trust me, people will like you, for you.
Au revoir overthinking
Dating doesn't need to be a game of chess. As if it wasn't hard enough to muster up the courage to initiate the conversation, now you've got to write the perfect message, carefully select the ideal emoji, debate kiss or no kiss – heck, by the time you're confident enough and decide to hit send, they've already lost interest and moved on. And over and over again we go.
Isn't it time to give that backspace button a rest? We all deserve better than recycled chat up lines and overdue replies. Instant messaging can never replace the power of face to face communication and with virtual speed dating, being thumb tied in dull text chains will be a thing of the past. Isodate allows you and your personality to do the talking. There's no time to overthink during a three minute date!
Up close and comfortable?
Virtual dating is unique in many ways, and the most obvious is that it happens from the comfort of your own home. For the more observant folk, peeking into a potential partner's home gives a deeper insight into their personality and who they are – something that no dating profile could ever offer you (and all this insight comes from your first meeting!)
Virtual Speed dating accelerates the notion of getting to know someone. You've already seen their impressive collection of healing crystals on their bedside table, or learnt that they are hardcore supporters of the Toronto Maple Leaf's (controversial) from their meticulously arranged memorabilia. However, more importantly you've been given the opportunity to see them as a complete person from the get-go, and all from their place of optimal comfort and safety…home.
There is something so intimate about gaining an insight into someone's home, and it's a major plus of virtual dating (bonus points if they have a four legged friend too!). After all: aren't we we all over small talk?
At Isodate, we feel you deserve better. Dating should be about people, not profiles, and we've made it our mission to get you swiping less and dating more. Our exclusive platform and algorithm allows you to meet up to 15 people in under an hour with webcam-to-webcam chats, putting the real back into relationships. 
Why not check out our list of upcoming events and try one for yourself? #SwipeLessDateMore